Why should you choose the Peninsula State Park Segway Tour?
The park itself is impressive. Peninsula State Park is the 3rd largest state park in Wisconsin with over 8 miles of shoreline and has over 1 million visitors each year. It is widely known as the most complete in the Wisconsin State Park system.
A tour we think you'll love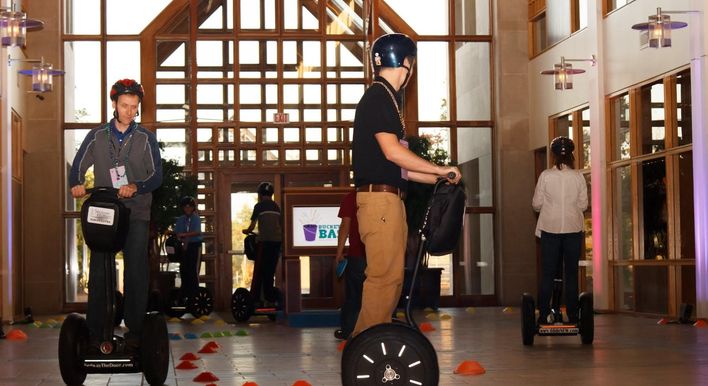 Competitive Relay Races
From TBD
View tour
Our Segway tour travels along the less used roads in the interior of Peninsula State Park. There are few cars, pedestrians, or bikes to contend with. Even though the roads are not very busy they include several amazing views of the water from 100+ foot bluffs and meandering forested roads. Often, we will spot wildlife like deer, woodpeckers, or porcupines.
You will learn about the rich history and historic locations within Peninsula State Park. Before it was a park there were two distinct communities inside the current boundaries. There are still a lighthouse and 4 cemeteries within the park. Winter and summer sports have thrived throughout the park's existence.
The Peninsula State Park tour is a FUN adventure! The hills that take us up and down throughout the park can be intimidating but they give you a sense of accomplishment when conquered. The less traveled roads give you the space to spread out and reach the top speed of 12.5 mph if desired. The quiet of the park is not disturbed by the low hum of the Segway so that you can feel one with nature.
These reasons are probably enough to choose the Peninsula State Park Segway tour. If you are still undecided, take a look at some of the reviews on TripAdvisor we have recently about this tour:
Peninsula State Park tour was a total blast.
5 Stars
We've done a lot of Segway tours in a lot of places and I have to admit we weren't necessarily expecting this one to be as good as others we've done, but guess what it was fantastic. Most often the tours we've done have been in a city, but this time we were on open trails in a park and it was a total blast. If you've ever wanted a chance to just ride your Segway for a good long distance (like a really long distance) and frequently have it cranked up to full speed, but also along the way still see really interesting things, then this is the tour for you. Our guide was just great, very safety conscious, did a terrific job with the new riders in our group. Definitely recommend Segway the Door.
Reviewed by z726beth
May 13, 2019
Great Experience Beautiful Views
5 Stars
Leif was a great guide. He knew a lot of history from the rocks to the lake to the dead people in the cemetery. He was a fun gentleman. We were Leary of the segways but what a blast. Really easy and felt safe. We went October 22 the colors were really pretty. It was a little cold but we dressed appropriately It was a great adventure. Would highly recommend. He even took pictures and video.
Reviewed by Ann B
Oct 26, 2018
Fun fun fun…….Door county segway
5 Stars
We had a wonderful time with Mark our Segway guide. The Peninsula State Park tour was great. We travel at least 9 miles. I loved the hills and Valleys on this tour. Not very challenging but great for beginners and even experienced riders because you could go pretty fast if you wanted to.
Reviewed by M L
Sep 11, 2018
If you are interested in reading more reviews of this tour you can visit the TripAdvisor page for that Tour.