Spring is finally here, and at Glide N.E.W., we're thrilled to be back in action after a long, cold winter. While our tours are weather-dependent, we're happy to report that we've already had two successful tours in Sturgeon Bay this year, and we're looking forward to many more in the coming weeks.
A tour we think you'll love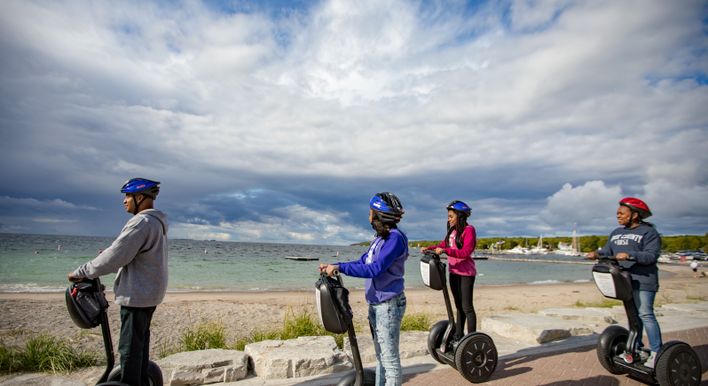 Sister Bay Segway Tour
From $45
View tour
At Glide N.E.W., we're passionate about sharing our love for exploring with others. Whether you're a first-time Segway rider or a seasoned pro, our tours offer a unique and exciting way to see some of Wisconsin's most beautiful destinations. From the stunning natural beauty of Peninsula State Park to the charming streets of Baileys Harbor, our tours showcase the very best that Wisconsin has to offer.
One of the things that sets our tours apart is our commitment to safety. We take the safety of our guests very seriously, which is why we have strict weather restrictions in place. Our tours are only available when the temperature is close to 40 degrees or higher, and we always check the forecast before setting out. This ensures that everyone has a safe and enjoyable experience, and that our equipment is kept in the best possible condition.
But even with these restrictions in place, there are plenty of opportunities to join us for a Segway tour this spring. Whether you're looking to explore the natural beauty of Cave Point or learn about the rich history of Sturgeon Bay, our tours offer something for everyone. And with our friendly and knowledgeable guides leading the way, you're sure to have a blast while discovering the hidden gems of Wisconsin.
So if you're looking for a fun and exciting way to explore Wisconsin this spring, look no further than Segway the Door, Segway the Fox, or Segway the Lake Tours. With our commitment to safety, state-of-the-art equipment, and knowledgeable guides, we're the premier choice for anyone looking to see the very best of Wisconsin. Book your tour today and get ready for an adventure you'll never forget!